Dear Members and Friends of Girl Scouts,
This update shares my thoughts on recent news stories some of you may have seen about uncomfortable and/or unpopular challenges and changes at Girl Scouts.

This Associated Press article reports in rather dramatic fashion that some councils are selling camp properties, national membership has declined over the past decade, our now frozen national council pension plan has unfunded liabilities, and our national staff headquartered in New York is undergoing restructuring, which includes a reduction in paid HQ staff.  



Here are some other facts to keep in mind: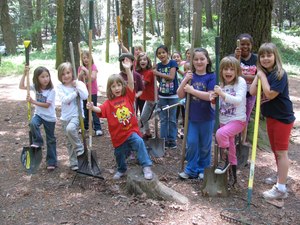 At GSNorCal, we are on track for our second year in a row of membership growth, 2013 was our best cookie sale ever, and our Property Task Group and Board have made great progress working in partnership with our members during the past 5 years to build a sustainable future for ALL of our camps. Of course we have challenges – both local and national. Funding for our now frozen national Girl Scout Council Retirement Plan is something that GSNorCal shares with most of our 112 sister councils. The frozen pension plan has fairly certain liabilities, since unlike many pension plans you may be reading about in the news, there are no cost of living increases and no medical benefits. The participating councils are required to bring the frozen plan to full funded status by 2023. There are a number of factors contributing to the underfunding, and we will be helped if Congress passes legislation that allows us to use the same funding calculations as for profit companies and to "smooth" out the required payments over the next 10 years. You can help! Here is a sample letter that you can send to your member of the U.S. House Representatives to support the Charitable Pension Flexibility Act (HR 2134).

For those interested in additional details, I've included more information below, and, of course, if you still have questions or thoughts, please let me know.

112 Councils and Thousands of Voices. 
There are 112 Girl Scout councils in the United States. Each council is chartered by Girl Scouts of the USA, and we each are a separate nonprofit organization. Our governing boards are elected by our members (in some councils there is one member one vote, and in others, like ours, members elect delegates, who elect the board). Members also elect delegates who elect the National Board. Anyone who has attended a National Council Session (with several thousand elected national delegates in attendance) knows that our Movement includes a diverse range of individuals with varied opinions about how Girl Scouts can best achieve its mission to build girls of courage confidence and character who make the world a better place. 

Dissention or Collaboration? 
The Associated Press article grabbed headlines focusing on "dissention" at Girl Scouts. Dissention should not be a bad word. We're living in a complicated world. Our girls, volunteers, and families face increasing pressures and demands on their time and resources. And our councils are very different, ranging in size from the largest council, which serves almost 90,000 girls in Chicago and surrounding areas, to the smallest council, Farthest North, which serves fewer than 1,000 girls in Fairbanks, Alaska. We're not going to discover a magical one-size-fits-all solution for all areas of the country. I've met with a lot of people at Girl Scouts USA and my counterparts at other councils, who are committed to girls and to Girl Scouts and who are working hard to adapt to the many changes and challenges we face. We don't always all agree, but I believe from respectful dissention often comes the best solutions. 

Our Chief Program and Membership Officer and I recently returned from meetings with our counterparts at the 10 largest councils (GSNorCal is the nation's 4th largest council), to share information about our challenges and "bright spots"
–
what we are each doing that is working for our volunteers and girls. We all learned a lot from each other and have a long list of projects to work on together. Collaboration doesn't make for very interesting newspaper articles – but I look forward to sharing with you in future Member Updates what the ten largest councils are working on together (and learning from each other).

Membership. 
GSNorCal is on track for our second year in a row of membership growth! Thank you to all of our volunteers for helping to make this happen. After our Oct. 1, 2007 merger, our board decided to focus on volunteer-led troops, multi-week funded series in underserved communities, and camp in order to ensure that girls are gaining the benefits of what Girl Scouts has to offer and to improve retention and, ultimately, membership. Our board was aware that ending one-day Girl Scout programs would reduce girl membership numbers, and we experienced a decline in total girl membership during each of 2009, 2010, and 2011. During this time period, we also started to see a steady increase in volunteer-led troops. We are now proud to be one of the few councils in the U.S. with two years of steady girl membership growth! In talking with our sister Girl Scout councils, many have made decisions similar to ours, and they too are intentionally reducing the number of girls served with a goal of increasing the impact of each girl's experience. While this is not the only reason for declining membership in some areas of the country, it is an important factor.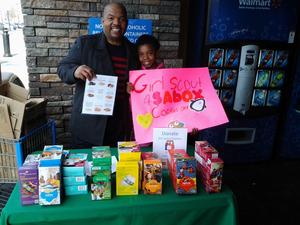 Cookies Sales. 
The article reports on a national decline in cookie sales. We are very fortunate that during 2013 GSNorCal had its biggest sale ever – girls sold about 3% more cookies in 2013 than they did during our 2012 sale. We have, however, experienced, along with much of the rest of the country, a decline in the number of girls participating in the cookie program during each of the past two years. This is a concern, since membership has grown during this same time period. This is something we need to figure out, since the cookie program is a valuable experience for girls who participate and generates 60% of GSNorCal's operating revenue. During the same time period that participation has declined in the cookie sale, participation has also declined in family giving. We need to work together to keep our organization funded.



Camps.


Deferred camp maintenance is not a new problem, and each council board is responsible for addressing this challenge based on the needs and resources of that council. 

Anyone who has camped at any of GSNorCal's camp properties has experienced deferred maintenance and a "wish list" of upgrades. The mergers, pension, and new council CEOs did not "cause" deferred camp maintenance. Nor is deferred maintenance unique to Girl Scouts. Many of our institutions, including California state parks, are struggling to maintain property. The mergers did create an opportunity to review Girl Scout properties since, for example, 6 merging councils each with 2 properties, suddenly found themselves as 1 council with 12 properties. In my opinion, a prudent board at least asks the questions: Is this the best use of our resources? Do we continue to spread resources across all these properties, or do we consolidate limited resources to improve a smaller number of properties? These questions are being asked by Girl Scout council boards across the country.

GSNorCal's Board Property Task Group has been evaluating and gathering data on GSNorCal's 12 camp and outdoor program properties since April 2008. We've made great progress in that time, working together
–
Board and Property Task Group members, Regional Delegates, volunteers, staff, alumnae, and donors
–
and are proud that we have: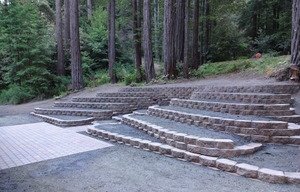 Not sold any camps.

Increased use and rentals at all camps.

Raised camp and rental fees to generate additional revenue to support camp operations.

Sold conservation easements on two Santa Cruz Mountain camps, the proceeds of which the board used to establish a Property Reserve Portfolio that is invested to generate gains and income that will be used to help maintain and improve our three most-used camps (Bothin, Butano Creek, and Skylark Ranch). Here's a picture of the recently completed amphitheater at Butano Creek – an example of how these funds (and volunteer labor) are helping us get our camps in shape for today's girls and volunteers.

Increased work party participation to improve the camps and reduce operating costs.

Engaged active volunteer site committees for Two Sentinels and Twin Canyon to get those properties to break even operations – both committees are doing an amazing job.

Launched an annual Tents and Trails Campaign (look for the 2013 Campaign in August) to raise funds to support camp maintenance and continued our Opportunity Fund Campaign to raise campership dollars, so all girls have the opportunity to experience camp.

Engaged our donors to make significant contributions to support camp improvements and, thanks to a $1 million grant from the S.D. Bechtel, Jr. Foundation, hope to break ground during 2014 on the new North Commons building at Butano Creek – planned as a flexible space for school year rentals, and for summer camp, complete with sleeping area, staff lounge, kitchenette, restrooms, and health center! We have a lot more dollars to raise, but we are off to a great start. 
Pension Plan.
The frozen Pension Plan is a burden, but an end is in sight. Most Girl Scout councils, including Girl Scouts of Northern California, are part of the National Girl Scout Council Retirement Plan – a pension plan for council staff that our national organization (Girl Scouts of the USA) oversees. The pension plan was established in the 1970s and frozen as of July 31, 2010. It is a fairly modest pension plan, compared to many we are reading about in the news these days. For one thing, it is frozen. Staff who retire with full benefits (in most cases after 30 years of service), are paid 50% of their average annual salary during the later part of their employment. There are no medical benefits, and there is no cost of living increase. The pension plan was overfunded until 2009, when the recession (and resulting decline in investment values), coupled with some legislative changes in the way future liabilities are calculated, pushed it into an underfunded status.  During 2007–2009, many councils merged as part of the national "realignment" that reduced the number of Girl Scout councils from over 300 to 112. As part of the mergers, eligible staff from merging councils were offered early retirement (since, for example, if you are merging 5 councils, you probably don't want to end up with 5 CEOs on your payroll), and the early retirement accelerated liability for their pension funding. There are a number of factors contributing to the underfunding – here are two key ones: 
Low discount rate. The current historic low discount rate is a very significant factor since it is a key driver of the calculations that pensions are required to use to calculate their funded status. 

Legislation and how you can help

. We need to bring our plan to funded status in 10 years

–

by 2023, and because the Girl Scout pension plan is frozen, we have an accelerated funding requirement during the next three years (2014–2016). Girl Scouts is seeking legislative relief that will help spread out our funding obligations over the next 10 years. If we are successful in obtaining that relief, assuming no dramatic changes in the discount rate or investment values during that time, then GSNorCal's pension obligations will hold about steady with what they have been during the current fiscal year.  Representatives Susan Brooks (R-IN) and Ron Kind (D-WI) introduced a bipartisan bill on May 23 that enables Girl Scouts and similar charities with affiliates, such as universities and non-profit hospitals, to opt-in early starting next year to the pension funding rules that cover corporate plans. Everyone can help Girl Scouts smooth out our pension payments by asking your members of the House of Representatives to support the legislation. Click here for a sample letter prepared by GSUSA. To find out who your U.S. House Representative is, go to the Girl Scouts Advocacy Network at girlscouts4girls.org and enter your zip code.
Are we selling cookies to fund the pension instead of funding camps? That's what a member of Congress is quoted as asking. The answer will be different for every council. There are 112 of us. Many of the councils that are selling camps are investing the proceeds to improve camps that they are retaining. Some councils have large reserve funds that can be used to fund the pension. Some have good borrowing capacity, and they will "smooth" the liability with borrowing. GSNorCal supports 60% of operations with proceeds from the cookie sale. The pension liability represents less than 4% of our annual operating budget. So, one can just as easily say that program fees, investment earnings, and retail shop sales fund the pension. 
 
And, let's not forget, there are benefits to the cookie program for girls in addition to the funds raised. Here's what one of our GSNorCal Girl Board Participants had to say in response to the question: "Yes, selling Girl Scout cookies assists with funding, but it also creates an experience for girls. Selling cookies builds character and confidence that girls need. For example, if it were not for selling cookies from the age of five, I would still have been my shy, little self."

What About the Girls?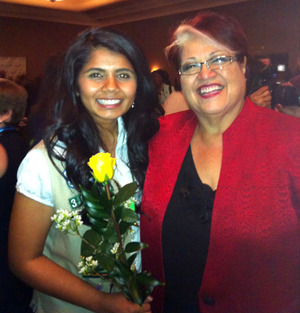 The article doesn't include the voice of girls – what do they think about Girl Scouts? How many have discovered courage, confidence, and character through Girl Scout experiences? Today's high school seniors have always been connected, they have 24/7 nonstop news about the world and their friends at their fingertips, and they face more pressure than ever from an onslaught of traditional and social media. Of course Girl Scouts needs to adapt and change to meet their needs. At GSNorCal, older girls – Seniors and Ambassadors – are our most rapidly growing membership group. In 2012, 264 girls earned their Gold Awards, a 60% increase over 2011. We can and should all be proud of the role Girl Scouts plays in building tomorrow's leaders. I love this picture from the 2013 Awards Ceremony where GSNorCal Ambassador Girl Scout, Sricharana Muppidi, was honored as one of just 10 National Young Women of Distinction for her Gold Award Project. Sri is with Mayor Marie Lopez Rogers, the daughter of migrant farm workers and the president of the National League of Cities – shining examples of courage, confidence, and character!

Speaking of daughters of migrant farm workers, all this week, 80 girls from GSNorCal's Daughters of Farm Workers programs in Half Moon Bay, Gilroy, and San Martin are learning how to make movies and build robots at NASA Ames in our Lights, Cameras, Robots program. 

I wish the article had spent at least one paragraph focused on all the great things girls and Girl Scouts are doing!

I hope this was helpful. There is a lot of information out there – some good and some that's just not accurate. As always, please do not hesitate to contact me if you have any questions or comments. And, thank you for all that you do that contributes to the success of Girl Scouting in our council and across our Movement. 
Yours in Girl Scouting,

Marina H. Park, CEO
Girl Scouts of Northern California