Jan. 17, 2013
Dear Members and Friends of Girl Scouts,
Happy New Year!
We are starting the 101
st
year of Girl Scouts with some very exciting news
just announced by GSUSA!
2013 National Young Woman of Distinction from GSNorCal!
  GSUSA just announced ... Sricharana (Sri), from Troop 30986 of Pleasanton, CA, is one of just ten Gold Award Girl Scouts selected as a
2013 National Young Woman of Distinction
by an external selection committee with representatives from leading nonprofit organizations, Girl Scout partners, and funders.
Sri's project had two main parts. She first educated her community on African culture through an event that hosted a crowd of 500 participants and brought in African dance groups, choirs,
churches, and organizations to perform and inform (Sri is shown in this photo speaking with State Rep. Jerry McNerney at her "Taste of Af
rica" event). Her show was a huge success and the money she earned as well as additional money earning projects, funded the second part of her project – to build a water retention system in
Bukoba, Tanzania. With the help of her father, she purchased all the supplies needed and
travelled daily to the village of Kangabusharo to work with villagers to build the water retention
systems. The system allows villagers to efficiently collect the water flowing from their roofs into their gutters, which would eventually flow into the holding tank. The tank would provide water for the women's cooperative and their families
as well as the goats in the adjacent goat pen. The villagers would use these goats to sell milk to make extra money for their children's education, which was a primary goal for many of the women they were working with.
Please join me in congratulating Sri!
You can read here
about each of this year's 10 National Young Women of Distinction.
Other News:
37 Gold Award Girl Scouts Honored at Jan. 6 Luncheon.
It was my privilege to attend the annual Gold Award luncheon organized earlier this month by the
San Francisco Bay Area Chapter of our Alumnae Group
. 37 girls and their family members attended the event. Each girl shared a brief summary of her project and received a certificate from the office of Senate Majority Leader, Sen. Ellen M. Corbett. Hearing 37 young women describe their Gold Award projects and the positive impact on their communities and the lessons they learned along the way, was the perfect way to start the New Year!
Our Oakland Office is Moving to Harbor Bay, Alameda, this May!
I am pleased to announce that Girl Scouts of Northern California's Board of Directors has approved a 10-year lease at 1650 Harbor Bay Parkway in Alameda, replacing the existing Oakland office at 7700 Edgewater Drive when our current lease expires in May 2013.

The bottom line:
We need to move, and it is a good time to sign a new lease! For less money than we paid for Oakland office rent in 2012, we will be moving to a much newer building that best meets the priorities identified by GSNorCal members and staff. Our new Alameda office will be in a well-maintained building with an efficient ground floor suite for our work, collaboration, and retail shop.
Our Alameda office will belocated near the Oakland Airport, accessed via 98th Avenue, one exit south of Hegenberger (our current exit). This will add a few minutes to the drive time for visitors travelling from areas north of our current office and will be about the same drive time for visitors travelling from areas south and south east of our current office.
We are all very excited about the changes and opportunities ahead and appreciate the input our members have provided to guide our Board and Property Task Group in making this decision. Stay tuned for more information, pictures and a Save the Date for our Open House Celebration as the move date gets closer!
Click here to learn more about our new building, scheduled to open for business
May 6, 2013, and the priorities and process that guided this decision by our Board of Directors
.
The 2013 Cookie Sale is Around the Corner!

Cookie Go Day is Feb. 10 and the sale continues through March 17. Our booth locations and dates will be loaded into our Online Cookie Locator at
iLoveCookies.org
so you can find yours - or
click
here
to download our free Cookie Locator Mobile App! Remember, you can find
great resources and marketing tools to maximize your sale online
in our Troop Resources section of the GSNorCal website.
New for this year's sale:
New cookie boxes that explain the Girl Scout Leadership Experience and highlight Girl Scouts' highest honor, the Gold Award. Get a sneak peek of the cookie box makeover here
on our GSNorCal Pinterest board!
A new Got Milk campaign in partnership with Girl Scout Cookies that will be promoted throughout California. Creative Girl Scouts in Northern California submitted wonderful entries to the competition to be selected for this
campaign. Congratulations to our 3 Girl Scouts from Northern California who were chosen as finalists! Madison Glock, 6, Castro Valley; Dinah Marr, 11,
Brentwood; Angel Langworthy, 14, Castro Valley! These girls will each receive a $350 camp scholarship and are in the running to be selected from 24 finalists as Grand Prize winners! Got Milk? will announce the 3 Grand Prize winner on National Girl Scout Cookie Day, Feb. 8 and the Grand Prize winners will be featured on a billboard in their region just in time for Cookie season! Thanks to everyone who entered - we'll show off all the great entry photos from our Northern California girls in February!
National Girl Scout Cookie Day, Feb. 8 - Watch news outlets and social media for the exciting ways we will be working to raise awareness of the Girl Scout Cookie
Program and support girls! If you are interested in helping promote the Girl Scout Cookie program in your area, click
here to learn more about our volunteer press representatives, the Girl Scout Grapevine!
Girl Scout 100th Anniversary Coin Goes on Sale Feb. 28! 

In recognition of Girl Scouts' 100th anniversary, the United States Mint is issui
ng a 2013 Girl Scouts of the USA Centennial Silver Dollar. The commemorative coin will go on sale
Feb. 28
, and the price will be determined by the United
States Mint closer to the on-sale date. A portion of the proceeds from each coin sold will benefit GSUSA.
For more information, the United States Mint has a
program Web page
dedicated to the 2013 Girl Scouts of the USA Centennial Silver Dollar. You may also send questions to
GSUSACoin@girlscouts.org
Help Set Girl Scouts of Northern California's Strategic Direction.  Delegate Elections Now Open! Vote Online!
Regional Delegates are the voice of members in council governance. They participate in and vote at the Annual Meeting (this year's is April 27) and engage local members in

strategic conversations. All registered adults and girls 14 years old and older are eligible to vote for Delegates. The election is open through Jan. 25 at midnight. Please cast your vote during this period;
click on this link
to get to the ballots. To initiate the voting process, the ballot will include a voting agreement and zip code entry requirement.
Click here
for more information. Results will be posted by Feb. 5.
Holiday Cards Brighten a Remote Outpost in Afghanistan
.
I have loved hearing about all the holiday service projects. We received this wonderful email last week from a service member in Afghanistan, thanking Girl Scouts of Northern California
troops for holiday cards that ended up as a small outpost "in the middle of
nowhere."
Subject:
Hello and thanks from Afghanistan!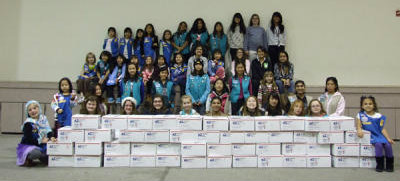 My name is Jerry and I am
deployed in Afghanistan. My men and I are at a small outpost more or less in the
middle of nowhere and we just received a HUGE batch
of holiday cards. We went through every single one. There must have been 150. We
wanted to thank all the leaders and young ladies who took the time to write us.
My wife was a GS leader for my daughter's brownie and junior group and I know
what a great program GS is. If possible, could you reach out to the following
groups and pass on our thanks for their concern and holiday
wishes.

10026, 10408, 30125, 30248, 30407, 30454, 30579, 30742, 30801,
31007, 31401, 31538, 31551, 31706, 32015, 32108, 32426, 33067, 60041, 60370,
61186, 61255, 61336, 61375, 61792, 61807, 61897, 61974, 62090

Thank you
again. Sincerely, LT Jerry Weers, SEAL Team FOUR
On behalf of all of us to all of you who made the world a better place this past holiday season, thank
you!
As always, please let me know if you have any questions or comments.
Yours in Girl Scouting,