Feb. 8, 2013
Dear Members and Friends of Girl Scouts,
This update reports on 5 topics:
The Cookie Sale "Go Date" is Sunday, Feb. 10! 
Today is our first ever National Girl Scout Cookie day! This is the first time, we've all
worked together, on one day, to focus the nation's attention on Girl S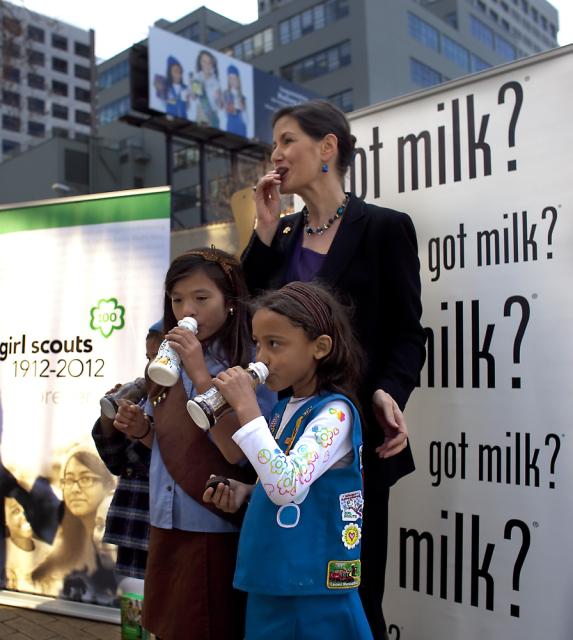 cout cookies – how the program helps girls build skills and raises funds to support Girl Scouts in building the next generation of leaders. 90 Girl Scout councils are participating in National Girl
Scout Cookie Day!
To add to the fun, GOT MILK? launched a new California
campaign today, featuring Girl Scouts and cookies on billboards throughout California! Northern California Daisy Girl Scout, Madison Glock of Castro Valley, is one of three California Girl Scouts selected for the billboard
campaign (below, left). GOT MILK? unveiled the Oakland GOT MILK? Girl Scout cookie billboard at a ceremony this morning with Lifetime Girl Scout Oakland Councilmember Libby Schaaf, right.
Check out this amazing video on our Girl Scouts Speak Out YouTube Channel
after today's ceremony crediting Girl Scouts with helping her become the leader she is today!

When you see girls selling, ask them how they plan to spend the money they raise and how their troop decided on that plan, and you will see firs
t-hand the 5 skills the cookie sale builds:  
Goal Setting
Decision Making
Money Management
People Skills
Business Ethics
Be sure also to check out our new cookie boxes, highlighting the Gold Award – the highest honor in Girl Scouts. 274 girls earned their Gold Awards in Girl Scouts of Northern California during 2012, a 55% increase over 2011! We sell about 4.5 million boxes of cookies in
Northern California each year, so this is an exciting opportunity to tell our story and make sure the public knows what the Gold Award means.
Searching for Thin Mints?
To find cookies for sale near you, search our Online Cookie Locator at
ilovecookies.org
,
or call **GSCOOKIES from your smartphone for our free Cookie Locator Mobile App!
Where Does All the Cookie Money Go?
$3.02 of each box sold provides direct support to Girl Scouts:  $0.87 for troop earnings and recognitions and $2.15 for council services.
What are Council Services? They are All the Things We Do to Keep Girl Scouts Going
.
Council services include:
Program center and camp
maintenance and repairs
Volunteer screening and
development, including online training
Managing Bronze, Silver, and Gold
Awards programs
Year round programs, including
Choices programs and summer camp
Property and liability insurance
for our camps, program centers and activities
Web site and Monday Mailing
All of the back-office operations
required for a non-profit organization our size, including HR, Finance, IT, and Registration
And, of course, the staff team
that works with our volunteers, bakers, and bank to organize the cookie sale and fall nut sale
The cookie sale accounts for 60% of our annual budget. We would not be able to keep our council in business and our camps and program centers open without it! Thank you to the thousands of parents and volunteers who make the cookie sale happen and to the 30,000+ girls who have signed up to participate in this year's Northern California sale.  Please know that what you do is helping all of us build girls of courage, confidence and character who make the world a better place.
And don't forget – even if you don't eat cookies, you can purchase boxes through the
Gift of Caring
to send to troops overseas and local food banks.
For more information about the size and impact of the GSNorCal Cookie Sale,
check out this great one-page summary of Cookie Stats!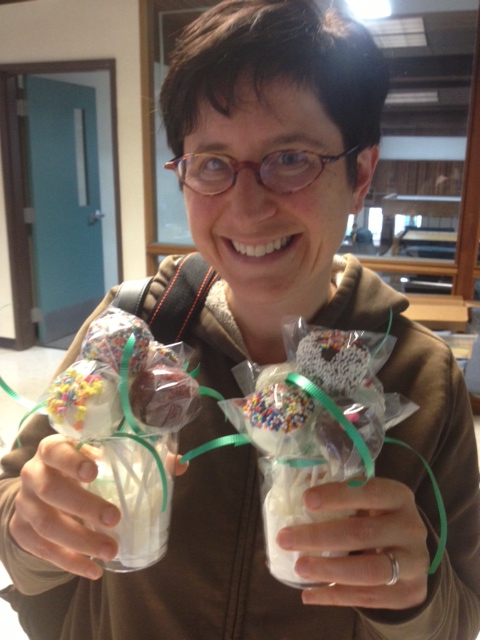 Discoveree 2013 is a Wrap! 
Last weekend, over 600 troop leaders and other volunteers participated in 124 workshops lead by 80 talented workshop leaders. Thank you to the team of volunteers and staff who created a wonderful day of fun and inspired learning! Where else but Girl Scouts can you learn from experts in one day how to help girls explore outdoor cooking, orienteering, Journeys and Lego robotics, build native bee nest boxes, make cake pops, and learn about Robert's Rules of Order and parliamentary procedure?
Regional Delegate Elections.
Congratulations to Girl Scouts of Northern California's
2013 Regional Delegates!
I look forward to seeing you April 27 at the Annual Meeting at Camp Bothin! Our council is organized into 14 regions. Each region is entitled to elect 8 delegates: 6 delegates for staggered 2 year terms (they may be adults or girls over age 14) and 2 girl delegates for 1 year terms. Delegates
elect the Board Development Committee and Board Members and also provide input to the Board on matters of strategic importance to the council. Of the 14 regions, 9 regions filled 100% of the 2 year positions and 4 regions filled 100% of the 1 year positions for girls. So, we're doing pretty well with adult delegates and would love to see more girl delegates! Your voices are important.
This will be one of many topics we'll be discussing at the April 27 Annual Meeting. Stay tuned for more.
Camp Registration is Now Open!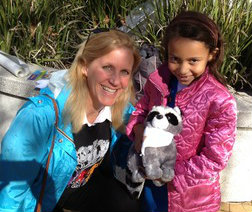 Summer will be here before we know it. Our camp staff and volunteers are ready – with resident and day
camps!  Check out
CampRocks.org
to find the right program for your Girl Scout, and don't forget mom and me camps at Bothin (in Marin County), and family camps at Sugar Pine and Deer Lake in the Sierras. These have all been popular additions to our camp offerings. We've also had fun introducing our new camp mascot, Roxy Racoon. Roxy plans to visit all the camps this summer. Meanwhile, she's making the rounds of the council and was on hand at the GOT MILK? billboard unveiling this morning!
National Young Woman of Distinction at GSNorCal Board Meeting.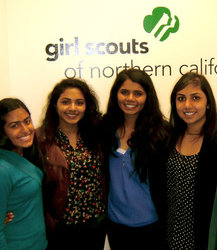 While Discoveree was underway last Saturday, our Board was
meeting at the Oakland office. The highlight was hearing from Sri about the Gold Award Project that earned Sri recognition as one of just 10 National Young Women
of Distinction for 2013. Sri shared photos and videos of her journey. She learned about and shared African culture with her community – organizing an event that 500 people attended and that raised funds to support the next phase
of her project. Sri brought supplies to a remote village in Tansania and helped the village build water storage facilities and goat pens. It is wonderful to see the Girl Scout Leadership Experience in action. Every step of the way Sri
discovered, connected and took action to make the world a better place. I will be on Capitol Hill on Feb. 28 with Sri for the unveiling of the new Girl Scout Centennial Coin! That will be great fun, and we can all be proud to have Sri representing Girl Scouts of Northern California! Here is a picture of Sri after her presentation with our Girl Board Representatives Bairavi and Zahra and Girl Board Advisor Varsha. 
Six Girl Scouts are Headed to the United Nations! 
Congratulations to the six Ambassador Girl Scouts who will represent Girl Scouts NorCal at the Commission on the Status of Women, hosted by the United Nations Economic and Social
Council, March 4. Over 5,000 women and girls from around the world are expected to attend the Commission. The priority theme for this year's session is the "elimination and prevention of all forms of violence against women and girls."
Girl Scouts of the USA invited all Girl Scout councils to apply to send 4 girls. We are honored that GSUSA selected Girl Scouts of Northern California, based on our long history of working to eradicate violence against women and girls through program opportunities
and projects. We invited girls to apply for the 4 slots and received
applications from throughout Northern California. We selected girls based on a combination of experience, knowledge, and passion for ending all forms of violence against women and girls. In addition, GSUSA invited our council to expand our delegation to include two Girl Scouts from our Got Choices program! These two girls, together with Whitney Evans, our Got Choices program director, are presenting a session entitled,
"Girls Ending the Cycle: Combating Inter-Generational Violence Through Leadership and Empowerment."
They will discuss Girl Scouts and Got Choices and how Girl Scouts is helping girls end the cycle of intergenerational violence. Talk about courage, confidence, and character – I am so proud of these girls for speaking out and of our council (and the many donors who support us) for having such an amazing Got Choices staff team and program! Got Choices empowers over 650 girls each year at 18 sites in five counties, including detention centers, shelters and community high
schools.
All six girls have LOTS of homework to get ready for the Commission meetings and each will have an important role. They are in the process right now of deciding their area of focus: speaking, advocacy, writing, or discussion leader. Marla Howard, the program director who oversees older girl programs, will be accompanying the girls (together with Whitney). I look forward to hearing all about the girls' experiences and sharing them with you!
As always, please feel free to contact me if you have any questions or comments.
Yours in Girl Scouting