Dear Friends and Members of Girl Scouts,
My last update was all about camp, including the then upcoming 75th Anniversary Celebration at Camp Sugar Pine on July 26. The Celebration was an inspiring reminder of our camp legacy.  A representative of the American Camping Association told us that they consider Sugar Pine to be among the very first organized resident camps established in California.  The picture below captures one of my favorite parts of the gathering --two sisters, "Cloud" and "Swift," who were counselors at Sugar Pine in the 1950s, who taught us their Sugar Pine song!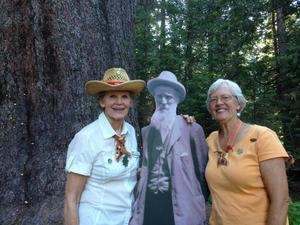 This update includes:
My next update will focus on governance: 
Our work on the three year (2015-2017) strategic plan for Girl Scouts of Northern California, opportunities to discuss the plan with regional delegates, upcoming regional delegate elections and the National Convention October 14-19 in Salt Lake City, Utah.
Cookies
Here are the Cookie headlines and key stats for the 2015 sale.  Stay tuned for many more details from our Product Sales team.  You can click here for a fun infographic with lots of details about Cookies!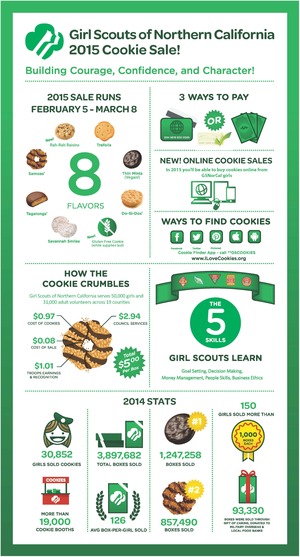 ​What's new. . .LOTS!
There will be a Toffee-Tastic gluten free cookie available in limited quantities.

All girls will have the option to sell online with parent/caregiver permission, creating their own e-commerce pages.

Thin Mints are vegan!

A new cookie – Rah Rah Raisin (with whole grain oats and raisins).
The 40th Anniversary of Samoas!
What's the same:
The same baker (Little Brownie Baker):  I know some of the ABC fans hoped we would be selling ABC cookies in 2015.  ABC has great cookies – but we ultimately concluded that with all the changes taking place (especially figuring out online sales for the first time ever), it was best to keep other changes to a minimum.

Fun bags:  We will repeat this promotion:  girl-designed, re-usable bags for customers who purchase 5 or more boxes.  Girls participated in a drawing contest during July.  Congratulations to Katerina (Redwoods), Madeline (North Central), Rujula (East Bay – Solano), Ellie (North Coast), Priya (South Bay – Peninsula, whose designs will appear on our 2015 bags, click here to see the winning designs!

High five for five:  This popular contest will return for 2015 – each customer who purchases 5 or more boxes can sign up for a chance to win 5 cases of cookies!

Same price: $5.00/ box for all varieties
What's changing:
Two cookies are being retired:  Thank You Berry Munch and Dulce de Leches are being retired, to make room for Rah Rah Raisin and the gluten free Toffee-Tastic cookies.

How the cookie crumbles:  As you can see from the comparison charts below, the cost of cookies is increasing in 2015 by an average of about 3 cents per box.  There are two primary reasons for this increase: 
1. Although the wholesale cost of gluten free cookies is almost 2.5 times higher than our other varieties, we are going to sell the gluten-free cookies at the same $5.00 / box price to keep things simple for girls, volunteers and customers;

​2. And the cost of cookies increases a bit each year.  The 3 cent increase in the cost of cookies means 2 cents LESS per box for council services and 1 cent less per box for troop and girl recognitions.  
We hope the added expense of the gluten-free option will be worth it for girls, helping them sell more boxes by bringing positive attention and new customers to the sale.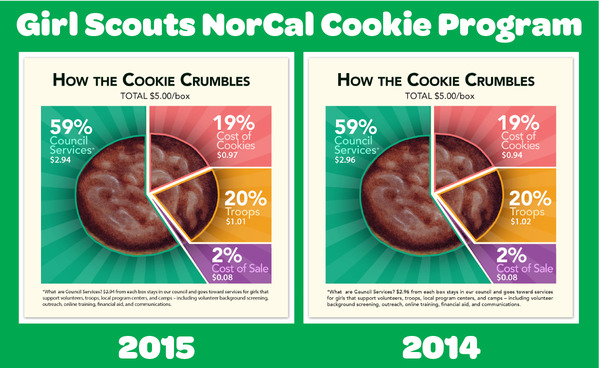 Do you know a cookie rockstar?  Girl Scouts USA plans to feature girl "cookie rockstars" from around the country during the 2015 National Cookie Weekend Celebration in February.  Is your girl an amazing cookie rockstar?  We'd love to hear her story (in your words or hers). GSUSA is especially interested in knowing about great things your girls are doing with their cookie earnings and innovative ways they are approaching the sale.  Please send your cookie rockstar story to cookies@girlscoutsnorcal.org by Aug. 27, and please be sure to include your contact information.  
Technology Improvement Projects Underway
We are excited to be part of a major project with Girl Scouts USA focusing on making life easier for parents and troop leaders and improving the consistency and quality of girl program.
As with any technology project, we need to do a lot more than just plug in the software.  We need to change some of our ways of work.  We have a great team of volunteers and service unit leaders helping.  Here are four quick examples of positive changes coming our way.
1. Making it easier to finding a troop.  It can be challenging for parents to figure out how their daughter can be a Girl Scout.  Imagine if we could direct parents to an online "troop catalog" where they can search for troops, locations and meeting days that work for them – and that show the volunteer positions that need to be filled to get the troop off the ground.  We are going to have that!  Volunteers will be appointed to a troop in one week, instead of the 4 to 6 week process under our current system, and parents will be regularly informed of their girl's status in the joining process.  Existing troops are NOT required to be part of the catalog, but that will be an option for troops that want to add more girls and/or volunteers.
​​          When?  Look for a troop catalog launch in spring 2015.
2. Simplifying registration and background screening.  In the new system there will be no volunteer application step.  Volunteers will move directly from registration to online background screening.  This enhancement also requires some changes in our current way of work.  We will discontinue the volunteer application step and the fingerprinting option for NEW volunteers.  The new electronic background check will cost $11.50 (payable directly to the vendor) and last three years.  It will search a more extensive database of information than our current electronic background check, including driving records.  Background checks are important for girl safety and are subject to many laws and regulations. Anyone interested in the details about these changes, can read more online.
   When? 

Background screening changes (including $11.50 vendor screening fee) will be effective Sept. 2, 2014. 

​Simplified registration will be effective with the spring 2015 launch.
3. Simplifying troop management.  GSUSA is developing an online toolkit that helps troop volunteers get what you need, when you need it, based on your troop's calendar.  Imagine a roster that auto-populates with all your troops' information that you can access via your computer or mobile device.  We're going to have that, too.  Later releases will facilitate 2-way communication between parents and troop leaders.
 When?  Spring 2015 for the initial release. 
4. Improving girl experience.  We hear from many leaders who want help using Girl Scout Journeys to create girl-led, learning-by-doing, cooperative learning experiences.  Imagine materials that help you coach your troop to plan troop activities, custom-fit with what your troop loves to do, and coordinated with a Journey.  The online toolkit will provide these materials. 
Next steps.  There are many details still to be worked out with this project – what we are calling the Volunteer System.  The good news is that there are a few Girl Scout councils already using the new Volunteer System and their volunteers love it! And the GSNorCal Service Unit volunteers who have seen a more detailed glimpse of the Volunteer System are also very enthusiastic!  Our goal is to be ready to launch the new Volunteer System for Girl Scouts of Northern California in spring 2015.  We will share information along the way.  And if you would like to dig deeper, we have a section of the web site dedicated to sharing information and project updates.
Dues and Fees Update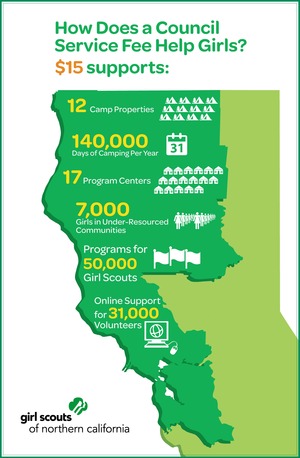 Starting September 2, 2014, an $11.50 background screening fee for adult volunteers.  New adult volunteers and current volunteers whose electronic background checks by GSNorCal are more than three years old, will be charged an $11.50 background screening fee (payable directly to the vendor).  Please note, the vendor may charge more than $11.50 in some counties (at this point, Humboldt and Shasta) due to specific county fees.  At the start of the online screening process, volunteers will be informed about the screening cost and may request financial aid.  The background screening will be effective for three years. 
Note to fingerprinted volunteers:  if you have been fingerprinted by GSNorCal and your volunteer / membership status is continuous from the date of fingerprinting, then you do not need to be background screened. 

Financial Aid for Adult Background Screening Fee:  Financial aid for the  background screening fee can be requested before starting the online screening process. 

Starting with the 2016 Membership year, a $15 Council Service Fee for Girls.   The Council Service Fee will help pay for all we do.   It costs money to provide great programs, fun camps, online tools, in-person and phone support, training and 24/7 emergency lines for volunteers and parents.  The cookie sale raises 60% of funds needed to support Girl Scouts of Northern California's operating budget; the Council Service Fee will help close the gap.  Our members have been discussing a GSNorCal Council Service Fee since GSUSA members voted to permit Council Service Fees at the 2011 national convention.  The gist of input from GSNorCal members at annual and town hall meetings has been to support a Council Service Fee that supports local operations, so long as we provide financial aid for those who can't afford it – which we will do.

What about girls who can't afford $30 for membership dues and a Council Service Fee?  We don't want to turn anyone away because they can't afford $15 or $30.  Many troops earn the $15 GSUSA national membership dues by participating in the fall sale and/or cookie sale.  In a typical year almost 7,000 girls receive financial aid from Girl Scouts of Northern California to pay their national membership dues, and we will continue to provide financial aid for those who cannot earn or otherwise cannot afford to pay dues or fees.
Click here for Summary of Dues and Fees for 2015 and 2016.
Online Retail Store Changes
As announced to members last week, starting Aug. 1, 2014, our GSNorCal Online Shop is merging into the Girl Scout USA Online Shop, which is now handling all online sales within our council's jurisdiction.  This will reduce costs and deliver more dollars to the bottom line for girl program and camps.  With this change GSUSA will now share the revenue from every online shop transaction within GSNorCal's jurisdiction – so when our members shop GSUSA online promotions they will also benefit Girl Scouts of Northern California.  Our six brick and mortar retail shops also remain open to serve our members, learn more. 
Online orders will now ship from GSUSA's distribution center in New Jersey. Our "council's own" merchandise is featured on our GSNorCal page within the GSUSA Online Shop and will still ship direct from GSNorCal. You can read more about these changes here, including how we will continue to support girls who want to use cookie reward cards and fall sale reward cards to make online purchases.
Thank you for all that you do for girls and Girl Scouts.
Yours in Girl Scouting,
Marina