April 2, 2014

Greetings to All Girl Scouts Members and Friends,
We Did It! GSNorCal Raised the Price of Cookies to $5 a Box, and We Met our Cookie Budget!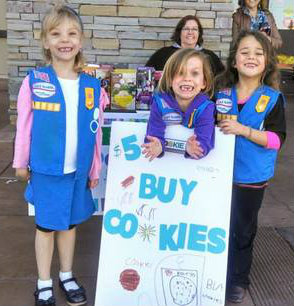 Thank you to everyone who participated, especially the troop cookie managers, the cupboard managers, the Service Unit cookie managers, and all the parents who helped your daughters become cookie bosses and volunteered at booth sales and neighborhood walk-abouts. Your participation in the cookie program helps over 31,000 participating girls build self-confidence and life skills and helps GSNorCal keep 12 camps open and keep Girl Scouts affordable for as many girls as possible! The cookie program and fall sale raise about 60% of GSNorCal's annual budget.
"They're learning about the cookies, but they're learning how to talk to people, how to make change and even stick to a budget … We also encourage them to think about the community and how to give back. It's so much more than just cookies." - Angela Borchert, troop leader for Solano County GSNorCal Junior Troop 20113, quoted in this great article about the Girl Scout cookie program.
Because of the success of the 2014 cookie sale GSNorCal will NOT need to charge a $15 Council Service Fee for the 2015 membership year. We are still calculating the final figures and will let you know final results soon. Thank you to everyone who made this possible and for helping us keep Girl Scouts affordable for as many girls as possible.
I know a lot of girls met their cookie sale goals and raised funds for take action projects and travel. I'd love to hear how your troop plans to spend the funds you earned!  
I Can't Wait ... Coming May 1: Renew your Membership for 2015, and Donate to Keep our Campfires Burning Bright!
Spring renewals for the 2015 membership year will open May 1. Membership dues for our national organization (Girl Scouts USA) remain at $15/girl. If you have any questions about what's ahead for your daughter in Girl Scouts and/or bridging to the next level, please call 800-447-4475 ext. 8094, or email

[email protected]

, and our staff will be happy to help.
Help get more girls outside and keep our campfires burning bright. When you register for 2015, please donate to our Camp Improvement Campaign and help us get more girls outside! Each donor (and each girl whose family o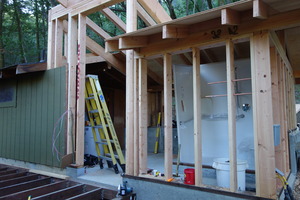 r troop donates) will receive the 2014 Camp Improvement Campaign patch featuring the new accessible Shower House at Camp Bothin (we've already started the work, as you can see in the photo to the right)! We have some expensive and essential projects ahead that will help us keep camps open for more girls. We need to raise about $5 million to complete essential health, safety and accessibility work on our three most used camps (Butano/Arequipa, Butano Creek, and Skylark Ranch). If we all contribute, we can do this! If one half of our 80,000 members each donate $20 to our Camp Improvement Campaign, we will raise $800,000 a year. Our wonderful patches will remind us of all that we have accomplished for girls!
What about fundraising for our other camps? We hope to make the Camp Improvement Campaign an annual part of renewals and registrations, raising funds for projects at all of our 12 camps. We need to pool our dollars to get expensive projects done on our most-used camps. Then we can turn our attention to our other camps and program centers. I look forward to seeing what completed project we will feature on our 2015 Camp Improvement Campaign Patch! Meanwhile, if you prefer to donate to a specific camp, you may specify the camp on our donation page in the "comments and other instructions" box, and we will use your donation for that camp property.
Update on Cookie Sales in Front of Medical Marijuana Dispensaries.
This past February, there was a lot of media attention about a San Francisco Girl Scout who set up a cookie booth (approved by her service unit and chaperoned by her mother) outside a medical marijuana dispensary. I wrote to you about this story on February 20 and asked for your input regarding Girl Scouts of Northern California's policy of relying on parents and volunteers to determine safe and appropriate locations in their communities for booth sales and noted that we would evaluate our guidelines at the end of the cookie sale.
Thank you for your input; it has been very helpful. Our decision is that: 1) we will continue with GSNorCal's current policy – leaving it up to parents, troop leaders, and service units to decide on safe and appropriate locations for girls in their communities; and 2) we will update GSNorCal's product sales materials to remind parents and volunteers to make sure that parents are aware of booth sale locations.
I received emails about this issue from 34 individuals, and our staff, board members, and I also have had opportunities to hear from volunteers at meetings and events. Of the 34 emails I received, 6 were strongly opposed to our current policy and thought GSNorCal should prohibit cookie sales in front of medical marijuana dispensaries, and the remainder (28) wrote to voice their support for GSNorCal's current policy. 
Here is a sampling of the points of view – as you can see, there are differences of opinion, and that is why we are going to update the guidelines with a reminder to make sure that parents are aware of booth sale locations:
In favor of current policy, leaving decisions about safe and appropriate locations up to parents and volunteers (28):
I'm not sure who will receive this email but if you ban girls from selling in front of a legal marijuana shop will you also prohibit them from selling in front of a hospital? I agree that you should leave it at the discretion of the service unit and the parent and not govern at a national level.
I believe that Girl Scouts should continue to rely on parents and volunteers to make decisions about what is appropriate and best for girls in their communities. I do not believe there is any need to establish any rules regarding this issue. It should continue to be a decision made by the parents & volunteers. As long as safety is taken into account and parents & girls are comfortable with their decisions, then why force more rules. Our society is over-run with rules.
I have no problem with this as my daughter has sold cookies in front of CVS which also distributes drugs by prescription.
There are so many people and agendas to please when you are dealing across so many lines (state, county, political, religious, cultural, etc.) and you cannot please everyone. As a fairly conservative Republican living in a very liberal Democratic state, I do believe we need to let some decisions, such as the location of this Cookie Booth, be at the discretion of the parent/child because no rules were broken. It was in a very safe environment with people who were very receptive to a great product and happy to support Girl Scouts.
I 100% agree - sales should be held anywhere the parents deem safe - if it works and it's safe then why change anything??
I believe that part of the benefit of participating in Girl Scouts is developing independent judgment and critical thinking. A girl, with guidance from her parent, will best develop those skills without mandates issued from council. This is the role of family and parents.
In favor of a GSNorCal rule prohibiting cookie booths outside of medical marijuana dispensaries (6):
That is absolutely appalling and unacceptable. I appreciate your generosity in hoping our parents would use good judgment on fulfilling our obligations as Girl Scout parents but clearly this freedom needs to be revoked
As a long-time volunteer with the Girl Scouts, I must say that I am EXTREMELY disappointed at your response to this "one mother's" choice of a cookie sales location. Stating that this is a "political" issue (when in fact, it is a MORAL issue) is a cop-out. Just because the "medical" marijuana dispensary is legal does not make it an appropriate location from which to sell Girl Scout cookies. Using your argument – it would be perfectly fine to have girls sell their cookies in front of a legal porn shop!
Thank you for promptly addressing the issue of Girl Scouts selling cookies in front of Medical Marijuana locations. This is certainly a hot topic and detracts from the goals of the girls selling. There are many arguments made for and against selling at these locations. I've seen where people have tried to support this argument by pointing out that supermarkets sell prescription medicines, cigarettes and alcohol, but I personally see a distinct difference. I would not allow my daughter or troop to sell in front of a liquor store, a bar, a hookah lounge, or a pot shop. I think it sends the wrong message to the girls and to the public. I think that at some point Girl Scouts will need to take a stand on this issue. I appreciate your desire to stay away from political topics and for allowing all faiths and lifestyles to be represented in Girl Scouts. But when we are talking about drugs legal or illegal, I think Girl Scouts will need to draw a line.
Thank you, again, for your input. I should note that the girl who was a subject of the media attention returned for booth sales in front of the medical marijuana dispensary and there were no incidents. In general, GSNorCal girls and volunteers enjoyed very safe booth sales in 2014, with no reported thefts or injuries.
Camp Rocks – Sign up for Summer Camp Now!
Registration is open for council and volunteer-run summer camps at CampRocks.org! We have affordable camps for everyone: day camps, resident camps, mom and me camps, family camps, and this year, for the first time ever, we are holding an outdoor skills weekend at Camp Sugar Pine, August 14-17, for leaders and daughters – leaders can get their camp certifications and daughters will enjoy a fun weekend camping and learning age–appropriate outdoor skills. We hope this will inspire and encourage more year-round camping!
Sugar Pine Celebrates 75 Years, Open for Rentals August-October.
This is a GREAT site for camporees. We're opening it for fall rentals. If you would like to visit Sugar Pine, we will be celebrating its 75th Anniversary as a Girl Scout camp on Saturday, July 26! Stay tuned for more Anniversary information coming soon.
Congratulations to Sabra, Jessica, and Varsha, three recent Gold Award Girl Scouts.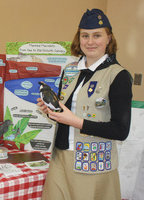 Educating children about the endangered Marbled Murrelet. Last year Sabra Morin, a Girl Scout living in Crescent City (in the far north of our council) was awarded the statewide "2013 California Scout of the Year" by the State Veterans of Foreign Wars, recognizing Sabra's Gold Award project to help educate kids about the Marbled Murrelet, an endangered bird that nests in redwood forests. We were really happy to hear from Sabra last month that Sabra's Marbled Murrelet Educational Activity booklet  has now become an international project thanks to Ruby Lake Lagoon Reserve Society in British Columbia, Canada, which  is linking their site with Sabra's! (Their site can be found online here.)
Helping victims of sex trafficking pursue a positive future

. Jessica Bird, a high school senior and Ambassador Girl Scout from Atherton, was recently named California's top to

high school youth volunteer of 2014 by The Prudential Spirit of Community Awards, a nationwide program honoring young people for outstanding acts of volunteerism. Jessica was honored for her Gold Award project to provide girls at a safe house in Costa Rica with the means to earn a living so that they would not have to return to prostitution. Jessica organized a team that traveled to Costa Rica and worked with her to team build a chicken coop, refurbish a greenhouse, and create a job training program so that the six girls at the safe house would not have to fall back into prostitution. Jessica and her team also taught the girls how to cook healthy meals, sell produce at a farmers' market, manage money, and exercise leadership and responsibility skills.
Caring for mothers and their children in rural India

. Varsha S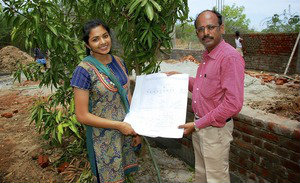 athappan, a high school senior and Ambassador Girl Scout from San Jose was recently honored as one of just 150 2014 Coca-Cola Scholars (a $20,000 scholarship), selected from over 90,000 applicants, recognized for her "many accomplishments" and "potential for future leadership." Varsha raised funds and constructed a maternity ward in rural India for her Gold Award project. Varsha described the role Girl Scouts has played in life at our 2013 Forever Green Leadership Awards:
"You see in Girl Scouts, from a young age, we strive to become women of impact. And Girl Scouts equip us with the tools to leave a lasting impact — communication, empathy, and a confidence to take on challenges."
Ban Bossy: Encouraging Girls' Leadership.Earlier this month, LeanIn.org and Girl Scouts teamed up to encourage girls' leadership, with the Ban Bossy campaign. Here are three things that I love about Ban Bossy:

1) Leadership takes practice. Research shows that 1/3 of girls hold back and avoid leadership opportunities because they are afraid of being labeled "bossy." The Ban Bossy campaign is about helping every girl find her voice and become a leader in her own life.
2) The "bossy" label gets in the way of helping every girl become a better leader. The Ban Bossy "tips" for troop leaders, parents and teachers focus on strategies and tactics to encourage and develop girls as leaders. The 4th grader who is called "bossy"
might be bristling with energy, ideas, optimism, and confidence, and she might also benefit from some coaching on listening skills and empathy. The full troop can benefit from learning ways to work together and listen to each other. Click here for Ban Bossy tips and materials.

3) Cadettes from Troop 60942 in San Jose got to meet Secretary Condoleezza Rice, Sheryl Sandberg, and GSUSA CEO, Anna Maria Chavez, for the Parade Magazine photo shoot! They are part of Miz Fran Chambers' amazing multi-age troop, which serves over 45 girls.
Honoring our Dedicated Volunteers.
Last month, I attended the volunteer recognition (and volunteer prepared) luncheon at the new Alameda office. We celebrated 24 volunteers whose service to girls an
d Girl Scouts has made a profound difference for girls and for the Girl Scout movement. We hold volunteer recognition celebrations throughout the year and throughout the council. The volunteer recognitions committee honored 102 volunteers for their outstanding contributions during the 2012-2013 membership year. If you want to recognize an amazing Girl Scout volunteer in your community, nominations for the period June 1, 2013 – May 31, 2014, are due June 30, 2014. Nominations packets will be available April 14, 2014. We will include links to materials in the Monday Mailing and future updates.
Annual Meeting, April 26, 2014: Register Now! 
All members and girls ages 14 and older are welcome to attend at Camp Bothin. Voting members will

elect a slate of Board and Board Development Committee members and National Delegates. Discussion topics include the state of the council, camp properties, strategic priorities for 2015-2017, and the October 2014 National Council Session. Please click here to register for our 2014 Annual Meeting. If you plan to attend the National Convention in Salt Lake City as a guest, registration will be open soon – you can learn more online here.
As always, please do not hesitate to let me know if you have any questions or comments.